16 février 2013
I COULDN'T FIND NO MAN TO LAY ME DOWN
Ok. Ce qui suit nécessite une préparation psychologique et physique, alors on respire un bon coup, on se tâte les parties génitales pour tout mettre en place et on y va...
OK. You'll need to be well prepared for what comes next. So take a deep breathe, gently grab your genitals and here we go...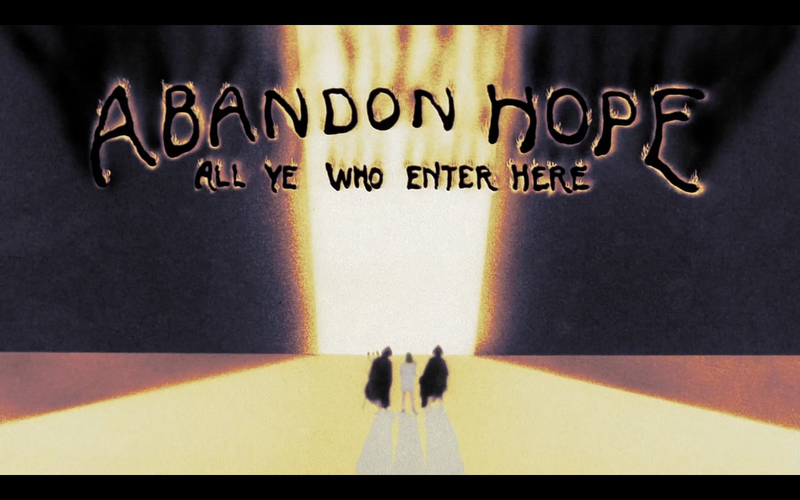 . FORBIDDEN ZONE .
a movie by Richard Elfman
Forbidden Zone, on y rentre comme dans une chambre remplie d'accros à la meth: ou tu en sors direct, ou alors tu te dis "oh allez merde", tu prends ta dose comme tout le monde et tu te fais le bon, gros, l'énorme trip de ta vie. Ne vous attendez donc pas à une comédie musicale, une satire ou un film purement esthétique, c'est certainement un peu de tout ça à la fois mais c'est avant tout un OVNI complet, dur à avaler et joyeux comme un donut, en bref, c'est une réelle expérience que de le regarder de bout en bout. Maintenant que vous êtes tout émoustillés comme moi devant un buffet à volonté, je vous laisse contempler pendant cinq bonnes minutes la photo qui suit, et puis je vous explique.
You'll experience Forbidden Zone as you would experience a walk into a room full of meth-heads: you can choose to immediatly walk away OR you can just say to yourself "well, whatever", take a massive dose and have the big fat trip of your life. Don't expect a musical, a satire or an aesthetic jewel (even though it's clearly a bit of all that), no, this movie is an UFO above all. Really hard to swallow but full of joy like a donut, it is a real experience to watch it til the end. Now that you are all arouzed (as I can be in front of an all-you-can-eat buffet) I'll let you contemplate the picture below during five minutes before we move on.
(the class teacher is a real badass, I'll give you that)
☆
Pour essayer de vous résumer brièvement l'histoire (parce qu'il y en a une, si si): Huckleberry P. Jones, un héroïnomane et maquereau, décide de quitter sa maison après la découverte d'un mystérieux portail interdimensionnel dans la cave... notons que nous sommes censés être en Californie (ce dont je doute grandement, mais si c'est ça, je veux bien prendre mon billet direct et sans retour). La famille Hercules emménage rapidement, et, parce qu'elle s'emmerde grave en cours, la petite dernière Frenchy décide de passer volontairement ce portail qui conduit vers la Forbidden Zone, où elle rencontrera l'amour de sa vie aka le Roi Nain King Fausto et la cruelle et passionnée femme de ce dernier, Queen Doris. C'est en essayant de la sauver que toute sa famille et ses amis passeront eux-aussi le portail (qui consiste en un immense colon soit dit en passant), au mépris du danger...
Let me try to summarise the story for you (yes, there is a plot): Huckleberry P. Jones, a local pimp and heroin addict, decides to leave his house after the discovery of a strange interdimensional portal in the basement... oh and the action is supposed to take place in California (that, I highly doubt but hey, if it's really the case let me buy my one-way ticket right away). The Hercules family moves in shortly after and soon their daughter Frenchy, bored to death, passes the tunnel which leads to the Forbidden Zone. Here she manages to find the love of her life aka The Midget "King Fausto" and her arch-enemy, Queen Doris. Braving the danger, all her friends and family will go to the Forbidden Zone in order to save her...
(Did I forget to mention? The portal is nothing but a huge colon, sorry)
THE CAST
. KING FAUSTO // Hervé Villechaize .
Fou amoureux de sa femme Doris, King Fausto est pourtant un être lubrique et plutôt courtois qui possède son propre harem (tranquillou quoi). Il finit par succomber aux charmes de Frenchy, puisque tous deux parlent couramment français et en usent et abusent pour se draguer à mort et faire du zizi. Précisons que c'est réellement un nain (bah ouais), et qu'il est très doué en peinture.

Hervé Villechaize ne vous est pas complètement inconnu, il a en effet joué Nick Nack, un méchant avec un nom de merde dans le James Bond L'Homme au Pistolet d'Or! Oh et, lui et Suzan Tyrrell sont vraiment sortis ensemble, mais avaient rompus bien avant le film. Ceci explique cela.
Crazy about with his wife Doris, King Fausto is still a Don Juan with a harem of several beautiful girls (yeah it's good to be king). He'll end up falling in love with Frenchy as they both share a perfect French accent and eventually their bodies. Yes, it's really a midget and he's also the finest painter ever. The actor, Hervé Villechaize, isn't a nobody since he played Nick Nack, a villain with a shitty name in a James Bond (The Man with the Golden Gun!). He was Suzan Tyrrell's boyfriend but they broke up way before the film was shot.
. QUEEN DORIS // Susan Tyrrell .
Voilà ce que j'appelle une femme. Non sérieusement, Queen Doris est LE personnage absolu pour tout fan de femme fatale et couillue qui se respecte, c'est à dire moi et tous ceux qui aiment les Russ Meyer (je ferai un article là-dessus plus tard, je ne peux pas dévoiler tout mon amour aussi vite). Doris, c'est la meuf qui a appris à 13 ans qu'elle pouvait se passer des mecs parce qu'aucun d'eux ne la comblaient, et qui à la place a décidé d'être Reine Titulaire de la Sixième Dimension. Son amour pour Fausto est aussi violent que son tour de poitrine, et elle fera tout pour garder sa place. Classe.

Est-ce que j'ai encore besoin de vous présenter Susan Tyrrell ? Si oui, regardez Fat City pour sa performance remarquable. Si non, vous savez qu'elle a joué dans Cry Baby de John Waters, ce qui est bien. Maintenant, vous allez tous lui rendre hommage parce que cette grande dame est morte l'année dernière, et que c'est elle qui a écrit et chanté sa chanson dans Forbidden Zone. Je l'aime.
Now that's what I call a woman! Seriously, Queen Doris is THE absolute character for every femme fatale lover in the world (which means me and all of you who like Russ Meyer's movies). She's the one who understood at the age of 13 that she didn't need no man and instead chose to be the Queen of the Sixth Dimension. Her love for Fausto is as big as her breasts and she'll do whatever she can to keep her position in his heart.
Do I need to introduce you Susan Tyrrell ? If the answer is yes, then watch Fat City for her breath-taking performance. If not, you do know she played in Cry Baby and I love you. Let's all pay our respects to the lady, who passed away last year and wrote/performed her character's song in Forbidden Zone.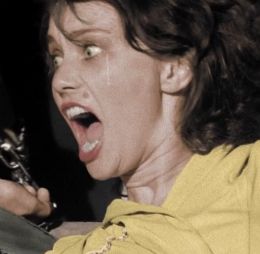 . FRENCHY HERCULES // Marie-Pascale Elfman .
Que ça soit clair: je suis obligée de défendre le personnage de Frenchy puisque je suis patriote et que je ne laisserai pas les américains faire une blague de plus sur le fait qu'on est des fiottes. On est... je veux dire... bon ok là j'ai l'image des talons de Louis XIV dans la tête, oubliez ça. Frenchy est volontairement agaçante. On a envie de la frapper d'un coup sec sur le crâne, surtout quand elle chante. N'empêche que quand elle dit d'un français parfait et en VO, je cite, - va te faire enculer! - , c'est JOUISSIF. Personne ne devait rien comprendre et moi je ris. Hinhin.
Marie-Pascale Elfman était à l'époque la compagne de Richard Elfman, le réalisateur donc. Dans cette grande famille de surdoués, elle participe activement au film: c'est elle qui imagine et conçoit la majorité des décors sur le plateau, travaillant aux côtés de son mari sur le production en plus de son rôle-star.
Let's be honest: being French myself, I have to defend Frenchy against all of those racist americans and their filthy jokes about how pussies French are. I mean... we did great things like... FORGET ABOUT IT, I only have Louis XIV's high heels in my head right now. Frenchy is clearly annoying. I want to smash her head so hard especially when she's singing. Except that when she says in a fluent french "Go fuck yourself!" ("Va te faire enculer" FYI) it is truly orgasmic. You won't understand a single word and I'll laugh real hard. Revenge.
Marie-Pascale Elfman was the spouse of Richard Elfman. She actively participated in the creation of the expressionistic set at the same time as she was playing the lead role.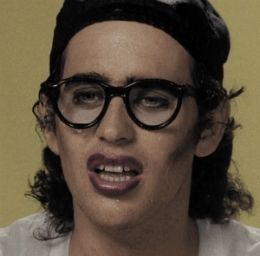 . SQUEEZIT HENDERSON // Matthew Bright .
Squeezit ou Chicken Boy est certainement mon personnage favori, parce qu'étrangement, c'est le seul ici qui semble avoir des problèmes plutôt "réels" en comparaison de la joyeuse légèreté des autres personnages. Gay refoulé, battus par ses camarades et sa mère, ses seuls amis se trouvent être des poulets (qui ne sont pas d'une grande aide): en gros, c'est un peu le souffre-douleur du film (à savoir, il joue aussi le rôle de sa soeur jumelle René).

Matthew Bright, ancien ami de la famille Elfman, est avant tout scénariste de profession. Il a écrit le script de Forbidden Zone, et colleborera encore avec Richard sur deux films, Modern Vampires et Shruken Heads (je dois ABSOLUMENT voir celui là, des têtes coupées vaudous qui parlent en héros c'est plutôt rare de nos jours). Il tourna également Freeway, un petit chaperon rouge moderne avec une toute jeune Reese Witherspoon et écrit le scénario de Guncrazy, un film deux jeunes en cavale avec Drew Barrymore quand elle était encore sexy comme la mort.
Squeezit aka Chicken Boy is without a doubt my favorite character. It seems that he's the only one to deal with "real" problems compared to the other characters' frivolity. Closet case man who is constantly bullied by his classmates and his mother, his only friends appear to be chickens (not really helpful). He's definitely the punchbag of the story (Matthew also plays the role of his twin sister René).
Matthew Bright, old friends of the Elfman family, is the writer of Forbidden Zone and worked on two other movies with Richard: Modern Vampires and Shrunken Heads (I HAVE to see this one, voodoo shrunken heads for heros are quite rare nowadays). He wrote the script of Freeway, a modern Little Riding Hood with a young Reese Witherspoon and Guncrazy, a movie about two teenagers on the run with a sexy Drew Barrymore.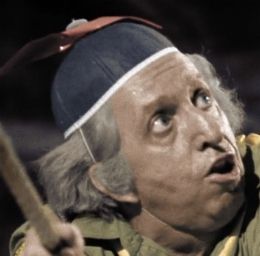 . FLASH HERCULES // Phil Gordon .
Flash est le frère juif de Frenchy (pourquoi juif? ... bonne question). Il est donc logiquement censé être un des fils de la famille. Bon ok il est carrément beaucoup plus agé que ses parents mais je vous l'ai dit, ne cherchez pas à comprendre. Ce personnage est un peu le running-gag stupide et grossier du film, c'est sans doute pour ça que je l'aime bien. Phil Gordon n'était pas acteur de profession, il a été engagé pour jouer Flash quand le premier acteur choisi pour le rôle a subitement disparu.
Flash is Frenchy's jewish brother (why Jewish? good question). He's theoretically supposed to be one of the sons even if he's way older than his parents (don't ask questions I said). This character is kind of the stupid and rude running gag of the movie, I guess that's why I like him. About Phil Gordon, he wasn't really an actor, he just replaced the first one who was originally hired to play Flash after he disappeared.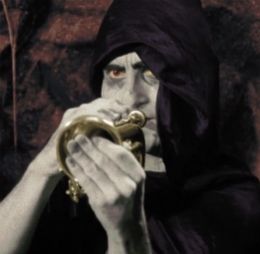 . JUST A CREEPY OLD FUCK WITH A TRUMPET .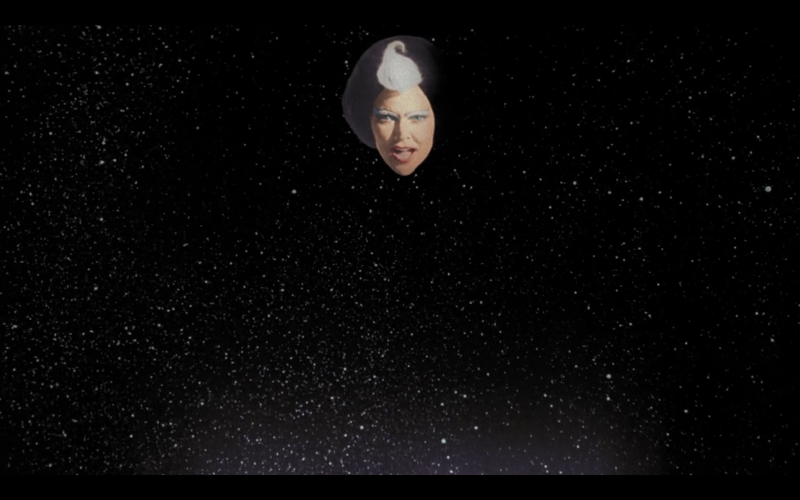 ☆ On retrouve au casting :
. Viva (first queen of The Sixth Dimension), a close friend of Andy Warhol and member of the Factory. You can see her in the wonderful Midnight Cowboys (John Shlesinger) and Paris, Texas (Wim Wenders).

. Joe Spinell, the mafioso Willi Cicci in The Godfather (I and II) and the loen shark Tony Gazzo in Rocky (I and II).
. The Kipper Kids, an experimental performance duo influenced by Samuel Becket, Viennise Actionism & English Music Hall.
. Danny Elfman, who plays Satan and wrote the soundtrack of the movie along with his band, the Mystic Knights of the Oingo Boingo.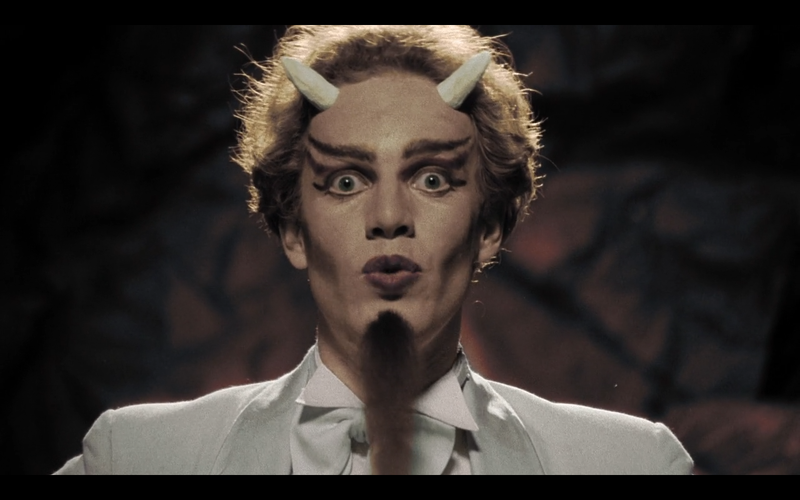 ( Danny Elfman as Satan is pretty hot. Who said that gingers are not sexy? )
THE SOUNDTRACK

Le point le plus important de ce film est sans aucun doute sa musique. Richard Elfman, avant d'être réalisateur, était avant tout musicien. Il partit à Paris où sa rencontre avec Le Grand Magic Circus l'inspira pour créer avec son frère Danny The Mystic Knights of the Oingo Boingo; un groupe composé de 15 membres qui revisitait sur scène de vieux classiques tout ça habillés en clown et autres créatures.
1. Tous les principaux acteurs étaient membres du groupe (Marie-Pascale, Matthew Bright, Danny & more). Ce film est donc l'histoire d'une bande d'amis talentueux qui décidèrent de transposer leur étrange monde de la scène au cinéma. Danny était en charge de l'écriture musicale pendant que le reste du groupe aidait au financement ou créait costumes et décors.
2. Inutile de dire que leurs performances font toute la beauté de ce film. Exactement comme dans un Walt Disney, on peut croire à la magie de ce monde un peu fou surtout parce que les personnages chantent quand ils devraient parler, et que tout le monde trouve ça normal. Ca donne une sorte de conte pour adultes réussi et troublant.
3. La principale influence de la BO est essentiellement du vieux jazz et du blues. Dans certaine scènes, Richard va même jusqu'à faire faire volontairement du playback aux acteurs sur du Cab Calloway ou du Josephine Baker! Ils veulent que vous vous amusiez certes, mais sur fond d'excellentes références.
☆
The main point of the movie is certainly its music. Richard Elfman, before being a director, was a musician who went to Paris and hanged out with Le Grand Magic Circus. It inspired him to create a band with his brother Danny, The Mystic Knights of the Oingo Boingo, which included 15 people on stage performing classics of the 20's while dressed as clowns or other creatures.
1. All of the lead roles were also and above all band members of the The Mystic Knights of the Oingo Boingo. Richard himself, his wife Marie-Pascale, Matthew Bright (bass player) and of course his brother Danny. The movie is all about close and talented friends who decided to transpose their own world from stage to theater. While Richard was filming, Danny took care of the soundtrack and the rest of the band helped finding fund or created costumes.
2. No need to say that those performances are more than half of the movie's awesomeness. Exactly as in a Disney movie, you can believe to this magical world first and foremost because of everyone's singing when they should be speaking. The result is a perfect fairytale for adults.
3. The big influence for the soundtrack was old jazz and blues classics. In some scenes, characters even lip synch to old records (Cab Calloway, Josephine Baker...)! They want you to have fun for sure, but you'll learn your classics as well.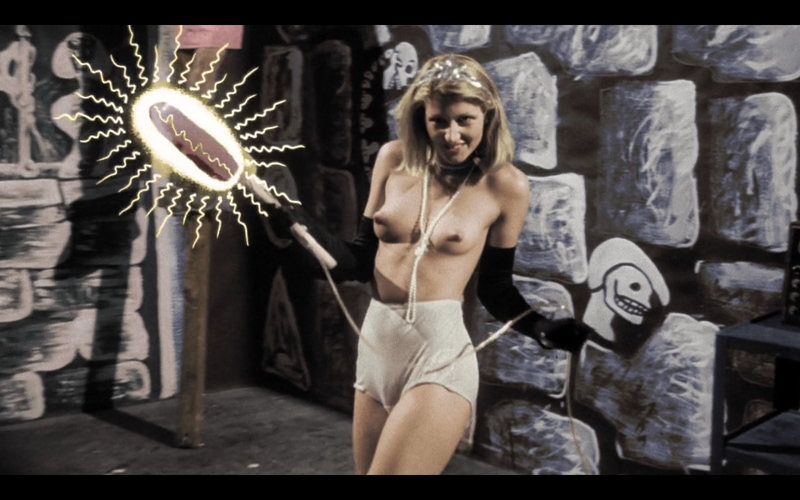 ( The Princess is always half-naked, the best way for sure to electrocute someone )
WHY YOU SHOULD WATCH IT
☆
Interdit de diffusion peu après sa sortie en salle car jugé antisémite, raciste et pornographique, Forbidden Zone est pourtant tout sauf provoquant. Il ne fait que survoler avec humour tous les différents écarts types qu'on peut trouver dans une société, sans qu'on puisse pour autant y déceler une véritable critique. S'y mélangent pêle-mêle la traite des esclaves, les conditions humiliantes et ridicules du travail en usine, discrimination des gays, le système éducatif déplorable, les idées reçues sur différentes communauté (noirs, juifs...), la concupiscence des hommes, la maltraitance, la cruauté gratuite, l'absurdité de la religion et l'abus de pouvoir. Pourtant, nous sommes ici dans une optique de montrer, pas de polémiquer. Car la principale caractéristique du film, celui qui mène la danse, est avant tout l'humour. On se moque gentiment de tout ça en le mettant en scène de façon grinçante et décalée, et on rajoute par dessus de constants bruits de pets afin de souligner le ridicule de la situation et de pousser le spectateur à se laisser aller. Pour nous faire passer nous aussi de l'autre côté du monde, celui d'un conte pour adultes sans aucune culpabilité !
Dernière chose: ce film est beau. Visuellement, un travail de fou a été accompli, ce qui case le film dans le genre New Wave, genre aussi rare que précieux. Que vous soyiez sensibles ou non à l'humour et au petit côté Rocky Horror Picture Show versus Desperate Living, vous ne pourrez qu'apprécier la performance graphique que constituent l'animation, les effets spéciaux (d'époque hein, rien de très fancy à la Cloverfield) et les décors. Un bijou. A noter que vous aurez le choix entre la version originale en noir et blanc, ou la colorisée de 2008. Que les puristes se calment, Richard avait initialement prévu de sortir ce dernier en couleur, mais par manque d'argent, seule la version noir et blanc fut retenue.
. Bref, vous savez quoi faire. KIFFEZ BIEN MES AMOURS, BISOU ♥ .
The film was given limited distribution during its initial theatrical release. Richard was accused of racism, use of pornography and even anti-semitism. Forbidden Zone isn't really provocative though. Sure, you'll find pell-mell slave trade, rude work conditions in factory, poor educative system, prejudices against black or jewish communities, absurdity of religion, gratuitous cruelty and power abuse. Despite this list Forbidden Zone only shows us with humour all the injustices one can find in a society without making a real judgment or involving you in a controversy. The stageplay gently mocks our weaknesses using constant fart sounds and funny turns of events so that we're able to let ourselves go and jump into a new world. A fairytale for adults where we can finally do nothing but laugh without guilt !
One last thing: this movie is beautiful. A crazy amount of work must have been spent here. Whether or not you appreciate the "Rocky Horror Picture Show versus Desperate Living" side of the movie, you will have nothing but admiration for the animation, special effects and sets. A real gem.
. Well, you know what to do. ENJOY SWEETIES, BISOU ♥ .
( all I can say about this picture is "Don't smoke or bad things will happen to you" )
Commentaires
Poster un commentaire